The ICARUS collaboration consists of more than 150 scientists, engineers and technical staff  from 25 institutions.
Spokesperson: Carlo Rubbia, INFN GSSI
Deputy Spokespersons: Alberto Guglielmi, INFN Padova; Robert J. Wilson, Colorado State University
Institutional Board Chair: Mark Convery, SLAC
Scientific Secretary, Press and External relations: Delia Salmieri, CERN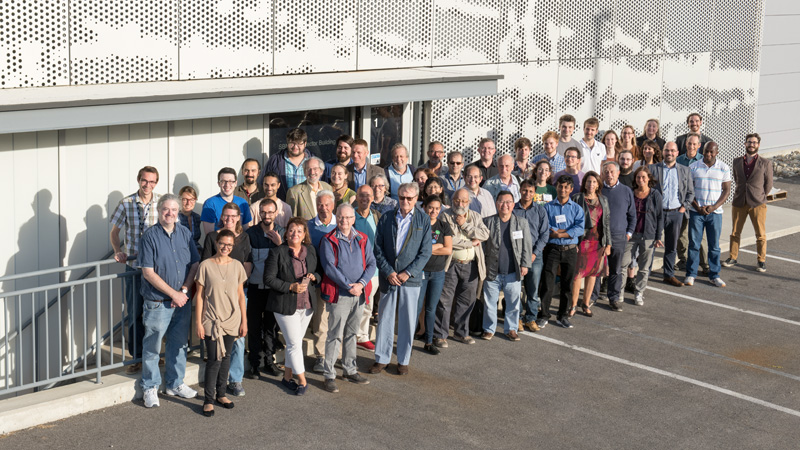 Collaboration Institutions and Members
Brookhaven National Laboratory, United States
M. Carneiro, M. Diwan (IB), W. Gu, J. Larkin, S. Martynenko, D.P. Mendez, X. Qian, A. Scarpelli, J. Stewart, B. Viren, E. Worcester, M. Worcester, H.Yu, C. Zhang
CERN, Switzerland
M. Babicz, O. Beltramello, J. Bremer, M. Chalifour, A. De Roeck, S. Dolan, C. Fabre, J. Hrivnak, U. Kose, D. Mladenov, M. Nessi, S. Palestini (IB), F. Pietropaoloa, F. Resnati, A. Rigamonti,  F. Sergiampietri, S. Tufanli
Centro de Investigacion y de Estudios Avanzados del IPN, Mexico
A. Castro, O.G. Miranda (IB), G. Moreno Granados
University of Chicago, United States
G. Putnam, D. Schmitz (IB)
University College London, United Kingdom
C. Backhouse (IB)
Colorado State University, United States
B. Behera, J. Berger, T. Boone, D. Carber, J. Dyer, A. Heggestuen, L. Kashur, A. Mogan,  M. Mooney, J. Mueller, D. Warner, R.J. Wilson (IB)
Fermilab, United States
W. F. Badgett, L.F. Bagby, S. Berkman, M. Betancourt, K. Biery, S. Brice, J. Brown, G. Cerati, R. Doubnik, A. Fava (IB), M. Geynisman, S. Hahn, B. Howard, C. James, W. Ketchum, G. Lukhanin, A. Mazzacane, C. Montanarib, T. Nichols, A. Prosser, R. Rechenmacher, G. Savage, A. Schukraft, A. Soha, D. Torretta, P. Wilson, M. Wospakrik, J. Zennamo, J. Zettlemoyer, M. Zuckerbrot
University of Houston, United States
A. Aduszkiewicz, D. Cherdack (IB), A. Wood
INFN Sezione di Bologna and University, Bologna, Italy
S. Bertolucci, D. DiFerdinando, M. Guerzoni, G. Laurenti, N. Mauri, N. Moggi, N. Montagna, A. Montanari, L. Pasqualini, L. Patrizii (IB), V. Pia, F. Poppi, M. Pozzato, G. Sirri, M. Tenti, V. Togo, S. Zucchelli
INFN Sezione di Catania and University, Catania, Italy
V. Bellini (IB), V. Brio, C. Petta, F. Tortorici
INFN Sezione di Genova and University, Genova, Italy
B. Bottino, A. Campani, D. Casazza, S. Copello, S. Di Domizio, L. Di Noto, F. Ferraro, M. Pallavicini (IB), M. Vincenzi
INFN GSSI, L'Aquila, Italy
C. Rubbia (IB)
INFN LNGS, Assergi (AQ), Italy
C. Vignoli (IB)
INFN LNS, Catania, Italy
S. Biagi, S. Cherubini, C. Di Stefano, R. Papaleo, G. Riccobene, P. Sapienza (IB)
INFN Sezione di Milano, Milano, Italy
A. Ferrari, N. Gallice, P. Sala (IB), A. Zani
INFN Sezione di Milano Bicocca, Milano, Italy
R. Benocci, M. Bonesini (IB), C. Brizzolari, A. Falcone, M. Spanu, F. Terranova, M. Torti
INFN Sezione di Napoli, Napoli, Italy
A. Cocco (IB)
INFN Sezione di Padova and University, Padova, Italy
B. Baibussinov, A. Braggiotti, S. Centro, M. Cicerchia, C. Farnese, D. Gibin, A. Guglielmi (IB), G. Meng, M. Artero Pons, L. Stanco, F. Varanini, S. Ventura
INFN Sezione di Pavia and University, Pavia, Italy
A. Menegolli, A. Rappoldi, G.L. Raselli (IB), M. Rossella, A. Scaramelli
University of Pittsburgh, United States
A. Chatterjee, S. Dytman, D. Naples, V. Paolone (IB), L. Rice, E. Richards,  N.B. Suarez
University of Rochester, United States
F. Akbar, H. Budd, R. Howell, J.S Kim, C. Marshall, K.S. McFarland (IB), J. Smedley, J. Wolfs
SLAC National Accelerator Laboratory, United States
M. R. Convery (IB) , L. Domine, F. Drielsma, D.H. Koh, F. Garcia, G. Petrillo, H. Tanaka, K. Terao, Y.T. Tsai, T. Usher
Southern Methodist University, United States
T. Coan (IB)
University of Texas at Arlington, United States
J. Asaadi, H. Carranza, W. Jang, Z. Williams, J. Yu (IB)
Tufts University, United States
P. Abratenko, M. Rosenberg, T. Wongjirad (IB)
With contributions from INFN Sezione di Lecce and University of Salento.
a CERN, on leave of absence from Padova
b Fermilab, on leave of absence from Pavia